I work as an IT Consultant in developing countries. Normally I don't have any problems with setting my timezone according to my present location. Currently I am working in Bangladesh and here the situation is different. The problems started when the Government of Bangladesh decided last year in September to introduce a Daylight Savings Time and all the computer clocks were off by one hour. I updated the zoneinfo files by applying the changes from tzdata2009u, tzdata2010e, and today tzdata2010g. Since then I have two different times on my machine. Terminal and SimpleFloatingClock show the correct Bangladesh time, even after the Government of Bangledesh reversed their decision in January 2010, but the MenuBar Clock and hence all depending applications like Calender, Finder, etc. show the wrong time.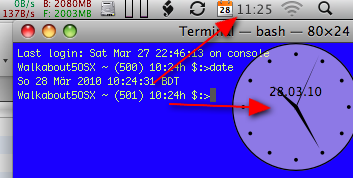 Obviously there are two different time setting areas one in POSIX and one for the UI. Has anybody an idea what file to change in order to get the correct time display? If I manually change the time in the preference pane to for instance 10h instead of 11h, the terminal time as well as the display of SimpleFloatingClock goes back to 09h. As you see there is always a difference of one hour.
Any hint is appreciated!!
System: MacBook Pro 2.4 CoreDuo, OS X 10.5.8